Family Friendly Fun:
Kayak and paddleboard nature tours, rentals, and sales. Aqua Trails is a company, based in Cape May, NJ, established to provide kayak and paddleboard nature tours, rentals and sales. The "mainstream" tours run from mid-June to September and explore the salt marshes inland from Cape May. Jeff and Tracey Martin are the proprietors and active participants in the enterprise. Both Jeff and Tracey take their turns, along with a few other experienced guides, in leading the tours in the wetlands.In addition to the regularly scheduled kayak tours in the wetlands, Aqua Trails offers full moon and sunset tours, kayak camps, and road trips.
1600 Delaware Avenue
Cape May, NJ 08204
Ages 8 and up For more information  609-884-5600

The 110 foot Cape May Whale Watcher has been dolphin and whale watching in the Cape May, Wildwood, Stone Harbor, Atlantic City and the rest of the New Jersey Shore area since 1993. We have also been history cruising in conjunction with the Mid-Atlantic Center for the Arts since 1993.Cape May Whale Watcher has a variety of available activities on our fleet. Our featured "Cetacean Spectacular" experience takes you on a 3-hour tour of the Bay and the Atlantic for a real whale and dolphin watching expedition. We have the largest and fastest marine mammal watching boats in New Jersey and we are the only boats with the never expiring "Marine Mammal Sighting" guarantee.
2nd Avenue & Wilson Drive
1218 Wilson Drive
Cape May, NJ 08204
 609-884-5445
Toll-Free: (800) 786-5445
*Well behaved, leashed dogs are allowed aboard the vessel outside the cabin.
East Coast Jet Boat (Cape May)
Our trips are best described as part scenic, part amusement. Trips feature the fun and exciting power thrill maneuvers such as our famous 360'spin, bow dunks. Also during the trip, your fun and knowledgeable boat Captain will slow things down to inform you on geological and historical points of interest, point out indigenous wildlife and provide extraordinary photo opportunities. But hold on to your hats because he'll be back on the throttle again! All trips include the legendary GET SOME SPIN. Our trips are informative and exhilarating; suitable for the entire family. Be prepared to take in the majestic scenery, learn a little about the wild and scenic Jersey Cape and get wet!At Utsch's Marina.
1121 Route 109
Cape May, NJ 082045 and up and/or 44′ tall609-898-8359Visit our websiteOur boats are FAST and LOUD smaller children must be at least 44″ tall (avg. 5 yr. old) to be seated properly in their seats.
*Parents know their children best but if you have any questions, please feel free to contact our office. There are plenty of moms and dads here with personal experience to help you determine what will work for your little one.
Atlantic Parasail (Wildwood Crest)
Come fly with us at Atlantic Parasail and experience the thrills of an Offshore Powerboat ride, Parachuting, Ballooning and Gliding all in one "Action Packed Adventure," at a fraction of the cost! Parasailing is terrific fun for the whole family!
We offer single, tandem (two people flying together) and triple harness rides. In New Jersey, we fly 500′ of rope, which puts you approximately 300′ – 350′ high off the water. Each ride lasts about 8 minutes if you fly single, 12 minutes if you fly tandem. Ninety percent of our flights are usually tandem, so bring your flying buddy with you, because the only thing better than parasailing above Cape May and Wildwood is parasailing above Cape May and Wildwood with your best buddy! The entire trip lasts about 1 1/2 hours dock to dock, and you will enjoy the boat ride and aquatic scenery while everyone takes their turn flying. It's the adventure of a lifetime, so be sure to book your parasail flight today!
1001 Ocean Drive
Wildwood Crest, NJ 08260  6 and up    609-522-1869
Visit our website
We take children as young as 6 years old and have also flown some 95 years old. Our minimum weight to fly alone is around 125 lbs., but it does increase and decrease throughout the day. The maximum combined weight is approximately 450 lbs.
East Coast Jet Ski (Cape May)
We rent excitement!If you are looking for a cool and refreshing way to enjoy your summer vacation in Cape May, try renting a personal watercraft (PWC), also called a Jet Ski or Waverunner. Jet Ski rentals are a great way to live life to the fullest this summer without breaking your budget.At Utsch's Marina
1121 Route 109
Cape May, NJ 08204All drivers must be 18 or older to rent with proper ID609-898-USKI (8754)
Visit our website
East Coast Parasail (Cape May)
Experience the high-flying thrill, panoramic views and pure excitement of parasailing at the Jersey Shore!Come soar at 500′ over the beautiful Atlantic Ocean in historic Cape May. Our two brand new, powerful USCG-certified winch boats allow you a gentle take off and landing without getting wet, unless of course, you request a "dip." Single, tandem, or triple passenger flights are available at captain's discretion (some restrictions).Our boats fill fast, so book your flight at the beginning of your vacation. Weather almost always plays a part in our daily operations. If weather-related rescheduling is necessary, our staff will make every effort to accommodate you during your vacation. The shore's natural high is a phone call away. It's a wonderful, safe and fun experience for the whole family.
 At Utsch's Marina.
1121 Route 109
Cape May, NJ 08204
609-898-UFLY (8359)
Participants under the age of 18 must have a parent or guardian sign their liability waiver prior to boarding the vessel. The minimum weight required to parasail is roughly 110 pounds. If the flyer is less than 110 pounds, they will simply fly tandem with another parasailer, with their combined weight not to exceed roughly 425 pounds. Weight requirements may change on any given day or time due to the wind conditions. Again, safety is always our number one priority.
Pier 47 Marina (Rio Grande)
Boat Rentals
Offering 20′ & 24′ pontoon boats that accommodate up to 10 passengers. Each boat has a Bimini Top, giving you protection from the sun. A great for a fun-filled day at the shore.
Boat and PWC Slips
How much time do you waste trailering your boat, uncovering, recovering, washing, and worrying? We take care of your boat so when you're ready to go, your boat is, too. Just step on board, load up, and take off. It's like having your own private boathouse, but even better, our premium dry rack valet storage for convenient summer in-and-out service in a year-round facility offering winter layup.
3001 Wildwood Blvd   609-729-4774  Visit our website
The Porgy IV is the closest Cape May party boat to the ocean, offering 8-hour deep-sea and Delaware Bay fishing excursions.Captain Paul Thompson, owner and operator of the Porgy IV, and his crew welcome you aboard the Porgy IV, the largest party boat in Cape May! Experience a fishing trip adventure with fun, laughter, friendships, and a lot of fishing action.No reservations are required.South Jersey Fishing Center
Cape May, NJ 08204609-884-1214
Visit our website609-465-3840
Captain Jeff Stewart, Jr.
If you are looking for the highest caliber boating excursion to experience in New Jersey, you have arrived. Come aboard the 110 foot long, 400 passengers, all aluminum triple diesel powered the super ship, Spirit of Cape May. With a partially enclosed sky lounge and open-air dance floor, the Spirit of Cape May is a unique venue for any event.
Dinner Cruises
Enjoy dinner, sight dolphins, drink an ice cold beverage, enjoy the company of loved ones and see one our beautiful sunsets over Delaware Bay. No other Dinner Cruise in the world can offer top quality food (from a Restaurant, not a microwave), unparalleled views and dolphin sightings in a single evening. We have the most to offer in Southern New Jersey. We offer the finest food available a float (see Menu and Ship), the largest and cleanest vessel, and a family-oriented atmosphere.
Must reserve in advance of the trip by 12:00 pm the day of.
Wilson Drive
Cape May, NJ 08204  609-602-9048  Visit our website
Thunder Cat Dolphin Watch Speedboat (Wildwood Crest)
South Jersey's only close up & personal dolphin watch! Welcome aboard the Thunder Cat Dolphin Watch Speedboat as we celebrate our 15th season. Offering the most up close and personal dolphin watching tour at the Jersey Shore. We are very proud to be voted the #1 "Dolphin Watching Tour" in all of South Jersey by Trip Advisor.
1001 Ocean Drive
Wildwood Crest, NJ 08260  609-523-2628
Tiny Cruise Line (Cape May)
Enjoy a relaxing cruise through the harbor to see our marinas, the US Coast Guard base, waterfront homes, wildlife, and more! The Tiny Tiki offers sunset cruises and half-day (4 hour) beach trips.
Private Parties
Grab your crew and fill the cooler!  Both the Tiny Tiki and the Tiny Cruise Line are available for private functions.
South Jersey Marina
1231 New Jersey 109
Cape May, NJ 08204
609-602-1118
Visit our website
Tiny Cruise Line can accommodate up to 10 people and the Tiny Tiki can take up to 6.
Looking for some great action-packed summer fun for the whole family? Check out Wildwood Waverunners. We are the #1 Waverunner/Jet Ski rental company in the area. This a must do while visiting the Wildwood or Cape May area at the Jersey Shore! Riding with us is the perfect way to beat the heat, quench your need for speed, and hang loose with family and friends. Experience the thrill of flying across the water at speeds up to 50 + mph. We promise our customers a safe and enjoyable experience that they won't forget.
1001 Ocean Drive
Wildwood Crest NJ, 08080
16yrs and up can operate, All children must ride with a parent (typically 6 years and up depending on size).
 609-523-1427
Visit our website
BIRDING BY BOAT AND THE WETLANDS WILDLIFE SAFARI ON THE OSPREY (Cape May)
Join the OSPREY for our signature BIRDING BY BOAT™ and WETLANDS WILDLIFE SAFARI tour. This is the finest birding by boat and wetlands tour in New Jersey. Birding and the WILDLIFE SAFARI begins immediately in the beautiful Cape Island Creek Preserve, New Jersey's southernmost salt marsh and a critical migration stop. We cover the hotspots of Cold Spring Harbor then proceed to the vast tidal wetlands along the Intracoastal Waterway. Trips remain on calm inland waters. Captain Bob has been exploring these waters since 1979 and been running tours since 1995.
1212 Wilson Dr, Cape May, NJ 08204, USA
Isand Water Sports (Stone Harbor)
We are a Water Sports Mecca in Stone Harbor, New Jersey!  We have kayaks and paddleboards for rent,  wakeboarding, waterskiing, and tubing, jetski waverunners, and the Back Bay Aqua Park!
9701 3rd Ave
Stone Harbor, NJ 08247
Phone: (609) 368-6114
Totally Tubular Water Sports (Ocean City)
Tubing, wake boards, water skis, boat tours, banana boat rides, and tours. Come ride the ONLY Banana Boat in New Jersey. Take a ride up the Ocean City beach line out in the ocean or throughout the back bay. Pulled by our new, Zodiac RIB, the 6 person, double wide Banana allows everyone in the group to ride at the same time, opposed to having to take turns as with traditional tubing. The tour is approximately 45 minutes of non-stop fun.
Need a break? Take a breather on the boat and then get back out there for one more, before the Banana splits! Why use Totally Tubular?
​100% Safety Record

Our Jet Boats Have NO Propellers

US Coast Guard Licensed Captains

Trained, Professional Staff

Totally Equipped Boats

6 Speaker Stereo System

NEW 2017 HYPERLITE and HO Equipment
Reservations & Information:
(609) 398-9000
​Boat Charters, Tours & Banana Boat
314 Bay Avenue Ocean City NJ
​
Wakeside Water Sports (Sea Isle City)
Wakeboarding, Waterskiing, Tubing, and Backbay Cruises
Our Captain can take your family on an adventure that they will never forget! Includes free Lessons for riders of all ages and levels.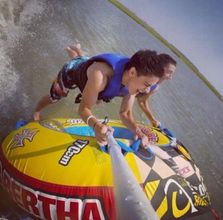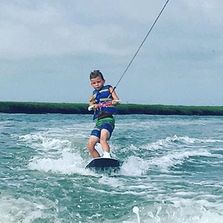 Wakeside Watersports
4216 Park Rd. Sea Isle City NJ 08243
Hours: Memorial Day Weekend – Labor Day Weekend
Bayshore Center at Bivalve – The AJ Meerwald (Port Norris)
The Bayshore Center at Bivalve was founded in 1988 to "motivate people to take care of the history, the culture and the environment of New Jersey's Bayshore region through education, preservation, and example." First, we restored the 1928 Delaware Bay Oyster Schooner AJ Meerwald as a sailing classroom.
Next, we created the Bivalve Center – BCB's Maurice Riverfront home where the restored 1904 Bivalve Shipping Sheds and Wharves serve as a maritime center of national significance, homeport to the Meerwald and the Delaware Bay Museum & Folklife Center. Now we are an established educational institute, with programs on the schooner, at the Bivalve campus and in the community – Commercial Township, Cumberland County and throughout South Jersey's Bayshore region.
Private Charters
The Meerwald's spacious wooden deck, 23 feet wide by 85 feet long, provides a unique setting for birthdays, anniversaries, weddings, reunions, fundraisers, company picnics, and other special occasions. The ship is available for 2 1/2 hour sails to a full day.  Bring your own refreshments or have a catered event.  Beer and wine are permitted onboard.
2800 High St., Bivalve
Port Norris, NJ 08349
856-785-2060
ATLANTIC CITY CRUISES (Atlantic City)
Cruisn 1 is United States Coast Guard licensed, inspected and certified to carry 150 passengers. However, in order to more comfortably satisfy our guests, we recommend a maximum of 100 guests.
The enclosed portion of the main deck has a bar and galley, wide panoramic windows, wall-to-wall carpeting, upholstered seating, and is encircled by a full walk-around deck with ample external seating. The upper deck can be fully enclosed with perimeter seating offering great vistas and a large, airy environment, ideal for dining, dancing, entertaining or holding meetings. The enclosed upper deck and lower decks can be heated to accommodate cruises year round.
Cruisn 1 also has a 20 KW generator which provides ample electrical power for catering and entertainment.
AC Cruises Depart From Historic Gardner's Basin -800 N. New Hampshire Ave, Atlantic City, NJ
609-347-7600 OR BOOK ONLINE
If you would like to be included in our listing or know a business who should be, email me: Karen@momsofcapemay.com