Here is a listing of the horror filled spooky events happening in and around Cape May County.  These events are scary and often not recommended for children. Please check the sponsors website or call for information. Note: This information is provided by event sponsors as a free service to our viewers. Sometimes conditions require cancellations or changes of dates, times and location which are not reflected in the original schedule. Before planning a trip to visit one of the listed events, it is suggested that you call the event sponsor to confirm the event schedule or for additional information on the event. 
Channeling Dinner with Psychic Medium Craig McManus
FRIDAY OCTOBER 12TH 6:30p-10:00pCold Spring Grange Resturant

Buffet style dining. $85.00 Please call for reservations 609-898-2300 x10.  This is an Adult Only Event
Shaved Fennel – Honey Champagne Vinaigrette
Fried Chicken – House Ranch – Hot Sauce
Pulled Pork Sliders with Slaw
Mac & Cheese
Cookies & Candy
Iced Tea & Water
BYOB beer and wine are permitted
The evening starts with a delicious casual fare in a private dining room at the Cold Spring Grange Restaurant.  The entertainment for the evening is Craig McManus and the spirits he channels. Craig has been working as a medium since the 1990s, channeling for clients around the world. His lifelong fascination with ghosts has also lead him to a career as a prolific author about ghosts and haunting.
After the meal, Craig will tell you when he senses a loved one. He will relay information from that person and act as an intermediary in the conversation between you and your loved ones.  Craig does not control who comes through in a session.  Due to time constraints not everyone will receive a reading.
Cold Spring Grange Restaurant
733 Seashore Road, Cape May, NJ 08204
(609) 884-0114
Ghoul Spring Village
NOVEMBER 2ND & 3RD 7pm-10:00pm Historic Cold Spring Village

Ghoul Spring Village- Where legends come to life!
Haunted Walk Ticket: $25.00 (13 and over) HCSV Members: $20.00
Advanced ticket sales ONLY! Reserve your tickets on our website by clicking the Book Now button!
This program designed for those who are 13 and older please
Ghoul Spring Village is Historic Cold Spring Village's first ever hair-raising fundraising event!
If you dare, please join us as we pierce the veil between the world of the living and the world of the dead. Venture to hear the trues stories behind some of New Jerseys infamous legends as you are guided through the darkness by lantern light. What entities will you encounter? And what will you bring back home with you?
Free parking, live music by Nae Breeks, vendors, & tasty treats! November 3rd Trinka Hakes Noble will be signing her children's' book The Legend of the Jersey Devil
Advanced ticket sales only! Reserve your tickets on our website by clicking the Book Now button!


Ocean View Trail of Terror
Ocean View Volunteer Fire Dept
Ocean View Trail of Terror 2545 Route 9, Ocean View, New Jersey 08230 
Ocean View Fire Company Presents The Trail of Terror, Rampage! This free haunted walk in the woods behind the Ocean View Fire Hall will be held on October 18, 19, 20, 25, 26, 27th 2018 from 7-10PM each night. All proceeds benefit the Ocean View Volunteer Fire Company.10/18/2018 – 10/27/2018 Weekly on Thursday , Friday , Saturday
7:00 pm – 10:00 pm
CALL: 609-624-3078
WEBSITE
Cornfield of Terror
R and J Farm
723 W. Herschel St.
Egg Harbor City., NJ
Website/tickets 
The sights and sounds of the Cornfield of Terror will leave you screaming for your life as well as running out of your shoes. You don't have to be the fastest, just don't be the slowest.
They also has a non-scary corn maze for those that do not have enough courage or simply want to test their navigational skills in the dark with nothing but a flashlight to help guide your way though the corn.
Terror In The Junkyard
Beginning September 28th, 2018, open every Friday and Saturday to the end of October, from 7pm-11pm, and on Sundays from 7pm-10pm
353 Zion Rd
Egg Harbor Township NJ 08234.
Website 
Offers a hayride, a Maze of Terror, and Zombie Paintball
Night of Terror
Creamy Acres Farm
448 Lincoln Mill Rd
Mullica Hill, NJ
Website/tickets
A spook filled event featuring very scary attractions including; The ride of Terror, the Home of the Demented and Dead, the dreaded Corn Maze, 3-D hall of terror, Zombie Mayhem, and more.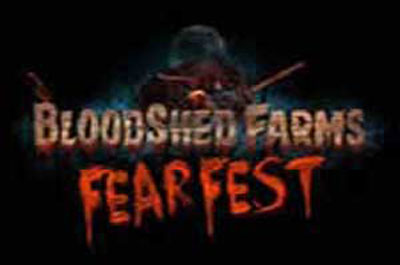 Blood Shed Farms Fear Fest 
2919 Route 206
Columbus, NJ
Website/tickets 
This attraction features one of the longest walking outdoor traisl of Terror that will take you on a journey full of unimaginable horrors and bone-chilling frights. Several Halloween themed attractions at one location Including: The Fun house of fear, The HellsGate Prison (based on the former Burlington County Prison with dungeons, gallows and old cells decorated with mannequins and artifacts), The Necropolis Cemetery and the Trail of Terror.

Walk of Fear
Bamboo Gardens
134 Landing Street
Vincetown, NJ
Website/tickets
10 themed areas interconnect by bamboo trails. A 30 to 40 minute Bone Chilling Walk in a Unique Atmosphere. FX Lighting, Foggers, Strobes, Loud Scary Music throughout entire Haunt. Actors Lurking everywhere Cross Blood Beach Enter The Black Light Forest Roam The Bone Yard Escape The Asylum.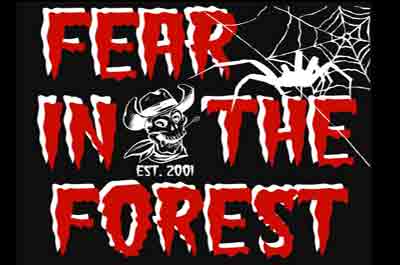 Fear In The Forest
Friday & Saturday, October 19th & 20th, 20187 (Open at dark, closes at 10pm)
182 City Line Road
(OFF Route 70, Mile Marker 32.5)
Pemberton, NJ 08068
Website/tickets
Donations: $10, ages 16 and over; $5 ages 5-15; and Free ages 4 and under
There are real trails leading through hundreds of trees, and real swamps. You will pass mine shafts and actual dungeons filled with demons and ghouls. The haunted forest is outdoors, so you better stay on the trail and not run.